What is a GTIN (Global Trade Item Number)?
The GTIN was developed to facilitate the global flow of products and services. With GTIN, products and services are uniquely identified at all levels of packaging, allowing for simplified supply chain management while employing the globally accepted and utilized EAN/UCC system whose language is understood globally.

A GTIN is used for identifying products worldwide within the EAN/UCC System. A GTIN is a 14-digit number though its bar code may contain only 12-digits (UPC), 13-digits (EAN-12) or 8-digits (EAN-8). The GTIN is defined as a 14-digit number to accommodate all the different structures, including the EAN/UCC-14 (Shipping Container Symbol).

The family of data structures (not symbologies) comprising GTIN include:

• UCC-12 (UPC-A): this is a 12-digit number used primarily in North America

• EAN/UCC-8 (EAN-8): this is an 8-digit number used predominately outside of North America

• EAN/UCC-13 (EAN-13): this is a 13-digit number used predominately outside of North America

• EAN/UCC-14 (EAN/UCC-128 or ITF-14): this is a 14-digit number used to identify trade items at various packaging levels



GTINs do not replace UPC numbers. Companies that currently use the UCC-12 (UPC) on their products should continue to do so and do not need a new UCC Company Prefix. GTIN is strictly a new term, and is part of the 2005 Sunrise initiative. This initiative, underway in the US and Canada, has two objectives. First, retailers must upgrade Point of Sale (POS) systems to scan and store EAN-13 symbols in addition to UPC symbols. Second, all supply chain participants are encouraged to expand the GTIN field in their databases to 14-digits to enable all forms of the GTIN. More information on GTIN and 2005 Sunrise can be found at http://www.uc-council.org/2005sunrise.

Obtaining a UCC Company Prefix:
Uniform Code Council Inc., 7887 Washington Village Dr.,
Suite 300, Dayton, OH 45459.
Phone 1-800-543-8137, Fax 1-937-435-7317.

Obtaining an EAN/UCC Company Prefix:
EAN/UCC Company Prefixes are assigned by either EAN Member Organizations or the Uniform Code Council, Inc.

Obtaining Bar Code Labels and/or Masters
Infinity Graphics provides services to fill all your bar code needs, including LABELS for direct application, e-mailable precision DIGIMASTERSTM for use in computer files created with desktop publishing software on both the Mac and PC, plate ready FILMASTERSTM as high resolution film negatives or positives for your printer, or as REPROMASTERSTM for keylining.

You may place your bar code order by fax, phone, e-mail or mail. Better yet, use our handy electronic Secured Order Forms. For your protection, all information submitted via our Secured Order Forms is encrypted before leaving the secured server. If you prefer, you may complete the form, print it and fax it to us. Most orders are shipped the day they are received. DigiMasters ordered weekdays 8 a.m. to 4 p.m. Eastern Time will be shipped via e-mail in LESS THAN AN HOUR.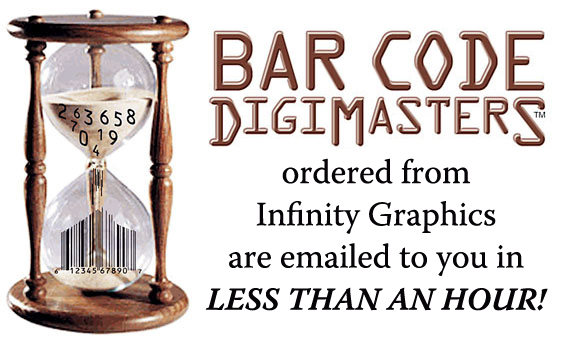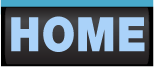 Copyright © 1996-2009 Infinity Graphics. All rights reserved.