The UPC Shipping Container Symbol (SCS) or GTIN14
is very similar in structure
to the
Universal Product Code (UPC)
.
Both employ a unique UCC Company Prefix (assigned by
GS1US
) and a 1 to 5-digit Item Number
(assigned by the Manufacturer, depending on the number of digits in the UCC Company Prefix).
Each employs a Check Digit at the end of the code.
The SCS also has a Packaging Indicator field preceding the UCC Company Prefix.
Its symbology is called Interleaved 2 of 5 (I-2/5) and uses a series of wide and narrow bands and spaces
to represent digits and is surrounded on two or four sides by a frame called a bearer.
There are UPC specifications for two types of shipping containers: fixed content and variable content.
The following information discusses specifications for fixed content codes only.
The fixed content code is a 14-digit symbol used to identify shipping containers
for products sold on a fixed unit of measure basis.
When end products are packed into shipping containers, there are two ways in which different assortments
of the same end products can be identified. One method is to change the 5-digit Item Number
so that each individual assortment has a unique Item Number. Historically, this has been a common practice
in the grocery industry. The second method can be employed only when the assortment pattern is set up
in a clearly defined and consistently applied hierarchical (box within a box) scheme. Each level of packaging
is then signified by using digits 1 through 7 in the Packaging Indicator field.
The Packaging Indicator (historically called an Assortment Indicator) can be any single digit
(except 8 which is reserved for future use).
0 is always used when the UPC code on the case and on the individual items
inside the case are different or when both a UPC Version A symbol and a Shipping Container Symbol
must appear on the same carton (for products where the shipping container
also acts as the package for the consumer product).
1 traditionally is used when the UPC code on the case and
on the individual items inside the case are the same.
1 through 7 can be used to signify a range of packaging levels.
9 is used only to signify a variable content shipment. The 9 indicates to the scanner
that a mandatory variable content add-on symbol follows the primary symbol.
NOTE:
All levels of packaging intended for retail sale should have UPC Version A symbols
to allow for scanning at the point of sale.
Condensed from the Uniform Code Council's U.P.C. Shipping Container Code and Symbol Specification Manual.
The foregoing information is intended only as a brief overview of the subject and should not be considered authoritative.
Unique industry requirements and current Uniform Code Council specifications change from time to time.

Obtaining Bar Code Labels and/or Masters
Infinity Graphics provides services to fill all your bar code needs,
including peel and stick LABELS and STICKERS for direct application,
emailable precision DIGIMASTERSTM for use on the Macintosh or PC,
plate ready FILMASTERSTM as high resolution film negatives or positives for your printer,
or as black and white camera ready REPROMASTERSTM for keylining.
If you need your barcode emailed to you in LESS THAN AN HOUR,
Infinity Graphics is the provider for you! We'll provide your barcode in the format you need
whether it's film, B&W camera-ready, or as a digital file.
If you order a digital file, we'll make sure it's in a format you can use and feel comfortable with.
We also offer same-day turnaround on stickers which are available in a range of sizes and symbologies
with your choice of permanent or removable adhesive. You may order online, via fax or toll-free phone.
Better yet, use our handy electronic Secure Shipping Container Symbol Order Form.
If you prefer, you may complete the form, print it and fax it to us.
Most orders are shipped the day they are received.
DigiMasters ordered weekdays 8:30 a.m. to 5:00 p.m. Eastern Time
will be shipped via e-mail in LESS THAN AN HOUR.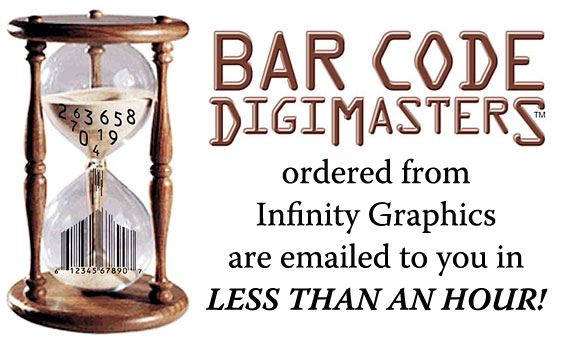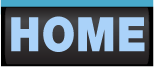 Copyright © 1996-2008 Infinity Graphics. All rights reserved.