Bookland EAN (European Article Number) bar code symbols are a requirement in the U.S. book publishing industry. They are used to represent the ISBN (International Standard Book Number) of publications.

Bookland EAN bar code symbols currently begin with "978" followed by the first nine digits of the ISBN. The last digit in the symbol is the check digit, which is calculated automatically by our system.

United States publishers may obtain ISBN numbers from the ISBN Agency R.R. Bowker.

For detailed information and/or specification guides regarding Bookland EAN symbols and their use contact Book Industry Study Group.

The International ISBN Agency provides a comprehensive ISBN Users Manual in pdf format.

ISSN is the standardized international code which identifies any serial publication independently of its country of origin, its language or alphabet, or its frequency, medium, etc.

ISSN bar code symbols begin with "977" followed by the first seven digits of the ISSN and generally followed by two zeros. The last digit in the symbol is a check digit, which is generated by our system.

United States publishers may obtain ISSN numbers from the
US ISSN Center.

U.S. and international publishers may obtain additional information from www.issn.org.

Bookland EAN Add-On Code
The 5-digit add-on symbol generally is used to represent a price or sometimes for data determined by a publisher's internal control procedures.

When used to show pricing, the first digit of the add-on is a currency designator. A 5 represents US dollars.

The remaining four digits represent the suggested list price. Leading zeros are used for prices less than $10.
| | |
| --- | --- |
| PRICE in US Dollars | 5-digit add-on |
| US $.01 to US $99.98 | 50001 to 59998 |
| Price over US $99.98; enter manually | 59999 |
| US $100.00 to US $199.99 | 10000 to 19999 |
| US $200.00 to US $299.99 | 20000 to 29999 |
| US $300.00 to US $399.99 | 30000 to 39999 |
| US $400.00 to US $499.99 | 40000 to 49999 |
| Price not encoded; enter manually | 90000 to 98999 |
| Reserved for industry wide uses; no pricing uses known | 99000 to 99999 |
It is required that the number 90000 be used when the publisher has no particular information to represent.
When the add-on is used for internal reasons, the publisher may choose any number between 90000 and 98999.
Numbers between 99000 and 99999 have been reserved for book industry-wide use. The Book Industry Systems Advisory Committee (BISAC) already has assigned part of this range to the National Association of College Stores (NACS). NACS has exclusive use of the add-on numbers 99990 through 99999, and has chosen 99990 as their "used book" designator and 99991 for "desk copies."
Obtaining Bar Code Labels and/or Masters
Infinity Graphics provides services to fill all your bar code needs, including peel and stick LABELS and STICKERS for direct application, emailable precision DIGIMASTERSTM for use on the Macintosh or PC, plate ready FILMASTERSTM as high resolution film negatives or positives for your printer, or as black and white camera ready REPROMASTERSTM for keylining.
If you need your barcode emailed to you in LESS THAN AN HOUR, Infinity Graphics is the provider for you! We'll provide your barcode in the format you need whether it's film, B&W camera-ready, or as a digital file. If you order a digital file, we'll make sure it's in a format you can use and feel comfortable with. We also offer same-day turnaround on stickers which are available in a range of sizes and symbologies with your choice of permanent or removable adhesive. You may order online, via fax or toll-free phone. Better yet, use our handy electronic Secure ISBN/ISSN Order Form. For your protection, all information submitted via our Secure ISBN/ISSN Order Form is encrypted before leaving the secure server. If you prefer, you may complete the form, print it and fax it to us. Most orders are shipped the day they are received. DigiMasters ordered weekdays 8:30 a.m. to 5:00 p.m. Eastern Time will be shipped via e-mail in LESS THAN AN HOUR.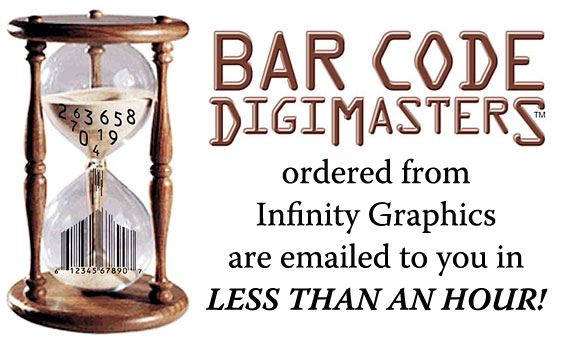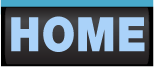 Copyright © 1996-2009 Infinity Graphics. All rights reserved.