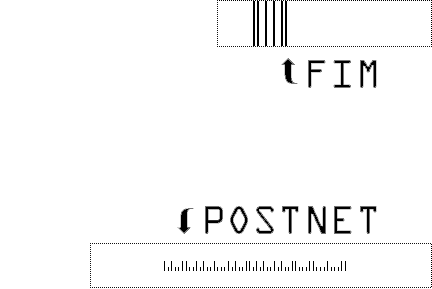 POSTNET

POSTNET (POSTal Numeric Encoding Technique) was developed for use by the United States Postal Service (USPS) to automate the sorting of mail. The code comprises two frame bars at the beginning and end, combinations of five long and short bars for each of the ZIP code digits, and five more long and short bars for the check digit. Each digit from zero to nine is a unique pattern of long and short bars. The eleven-digit bar code is developed from the nine-digit ZIP code and the last two digits of the street address.
POSTNET is a demanding bar code symbology because it has a size and placement requirement. It cannot be reduced or enlarged. Bar width, height, and spacing are fixed.
Guidelines for creation and use of POSTNET are set by the USPS. You can obtain copies of the Domestic Mail Manual and/or Publication 25 from the USPS for an explanation of these guidelines.
The background rectangle (white or transparent) is provided to help you place the bar code on your envelope graphic

FIM

FIM (Face Identification Marking) was developed as part of the POSTNET barcoding system. FIM is used by the cancelling machines to sort mail according to whether or not they have bar codes and their postage requirements. There are three types of FIM called FIM A, FIM C, and FIM D.

The FIM types have the following meanings:
FIM A – Postage required, POSTNET bar code included
FIM C – Postage prepaid, POSTNET bar code included
FIM D – Postage required, POSTNET bar code not included
A background rectangle is included in the file to help you place the bar code on your envelope graphic.
Obtaining Bar Code Labels and/or Masters
Infinity Graphics provides services to fill all your bar code needs, including peel and stick LABELS and STICKERS for direct application, emailable precision DIGIMASTERSTM for use on the Macintosh or PC, plate ready FILMASTERSTM as high resolution film negatives or positives for your printer, or as black and white camera ready REPROMASTERSTM for keylining.
If you need your barcode emailed to you in LESS THAN AN HOUR, Infinity Graphics is the provider for you! We'll provide your barcode in the format you need whether it's film, B&W camera-ready, or as a digital file. If you order a digital file, we'll make sure it's in a format you can use and feel comfortable with. We also offer same-day turnaround on stickers which are available in a range of sizes and symbologies with your choice of permanent or removable adhesive. You may order online, via fax or toll-free phone. Better yet, use our handy electronic Secure FIM/Postnet Order Form. For your protection, all information submitted via our Secure FIM/Postnet Order Form is encrypted before leaving the secure server. If you prefer, you may complete the form, print it and fax it to us. Most orders are shipped the day they are received. DigiMasters ordered weekdays 8 a.m. to 4 p.m. Eastern Time will be shipped via e-mail in LESS THAN AN HOUR.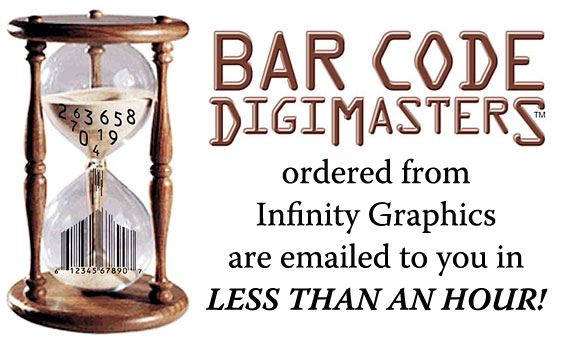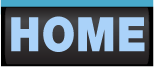 Copyright © 1996-2009 Infinity Graphics. All rights reserved.