The 12-digit or 13-digit, all-numeric section of the UCC Code identifies:
• a scanned symbol as a coupon
• the issuer of the coupon
• the product(s) families that offer the discount
• the value of the coupon
• a check digit
GS1US (formerly the Uniform Code Council,
7887 Washington Village Drive, Suite 300 Dayton, OH 45459
Phone 1-800-543-8137, Fax 1-937-435-7317
http://www.gs1us.org
All coupons that have a Universal Product Code (UPC) need to include an additional bar code to be in compliance with the UCC coupon code guidelines from the GS1US.
The UCC coupon code provides an effective way to electronically designate a coupon's redemption value, designate the product(s) in an offer, validate purchase, and track coupon usage. This system works well for these purposes. However, in order to enhance the system, manufacturers, retailers and coupon clearing houses cooperated with the UCC to develop the UCC/EAN-128 coupon extended code.
The coupon extended code is a supplementary bar code that enables the communication of additional information
such as offer codes, expiration dates, and household identification numbers.
Companies which issue coupons have the flexibility to choose the information they want encoded on their coupons using one of five standard coupon extended code formats. The three that can be mass produced are illustrated below.
Format 1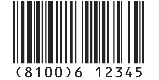 Encodes Manufacturer's Number System Character and 5-digit offer code

Format 2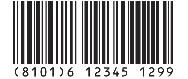 Encodes Manufacturer's Number System Character, 5-digit offer code, and coupon expiration date

Format 5



Encodes Manufacturer's Number System Character

Obtaining Bar Code Labels and/or Masters
Infinity Graphics provides services to fill all your bar code needs, including peel and stick LABELS and STICKERS for direct application, emailable precision DIGIMASTERSTM for use on the Macintosh or PC, plate ready FILMASTERSTM as high resolution film negatives or positives for your printer, or as black and white camera ready REPROMASTERSTM for keylining.
If you need your barcode emailed to you in LESS THAN AN HOUR, Infinity Graphics is the provider for you! We'll provide your barcode in the format you need whether it's film, B&W camera-ready, or as a digital file.
If you order a digital file, we'll make sure it's in a format you can use and feel comfortable with.
We also offer same-day turnaround on stickers which are available in a range of sizes and symbologies with your choice of permanent or removable adhesive. You may order online, via fax or toll-free phone. Better yet, use our safe and handy electronic Secure Coupon Code Order Form. Most orders are shipped the day they are received. DigiMasters ordered weekdays 9:00 a.m. to 5:00 p.m. Eastern Time will be shipped via e-mail in LESS THAN AN HOUR.